The University Dental Clinical Center PROF.D-R BOJO ANDRESKI Skopje is a private healthcare institution established on 26.11.2010, that provides dental services in all specialties, X-ray diagnostics, has its own dental-laboratory, and conducts educational and scientific-research activities for the Faculty of Dentistry within the European University Skopje. Apart from the state dental clinic, it is the first and only private dental clinical center in Macedonia. Currently there are 13 DMD specialists operating withing the clinical Center and 2 general dentists for primary healthcare services. Additional professional and administrative staff is available at service (nurses, dental technicians, x-ray operators, etc.).
The University Dental Clinical Center is located within the building of the European University on a surface of 1200.8 m2 divided in two parts: preclinical area with 337.65 m2 and clinical area with 863.19 m2.
The premises are at the ground floor and all its surface is on one level. It has a separate easily accessible entrance located on the northern façade of the University. Also, there is another entrance intended for VIP guests, or it can be used as an emergency exit. The building is accessible to persons with special needs who can visit the clinic without impediments and a separate restroom is available.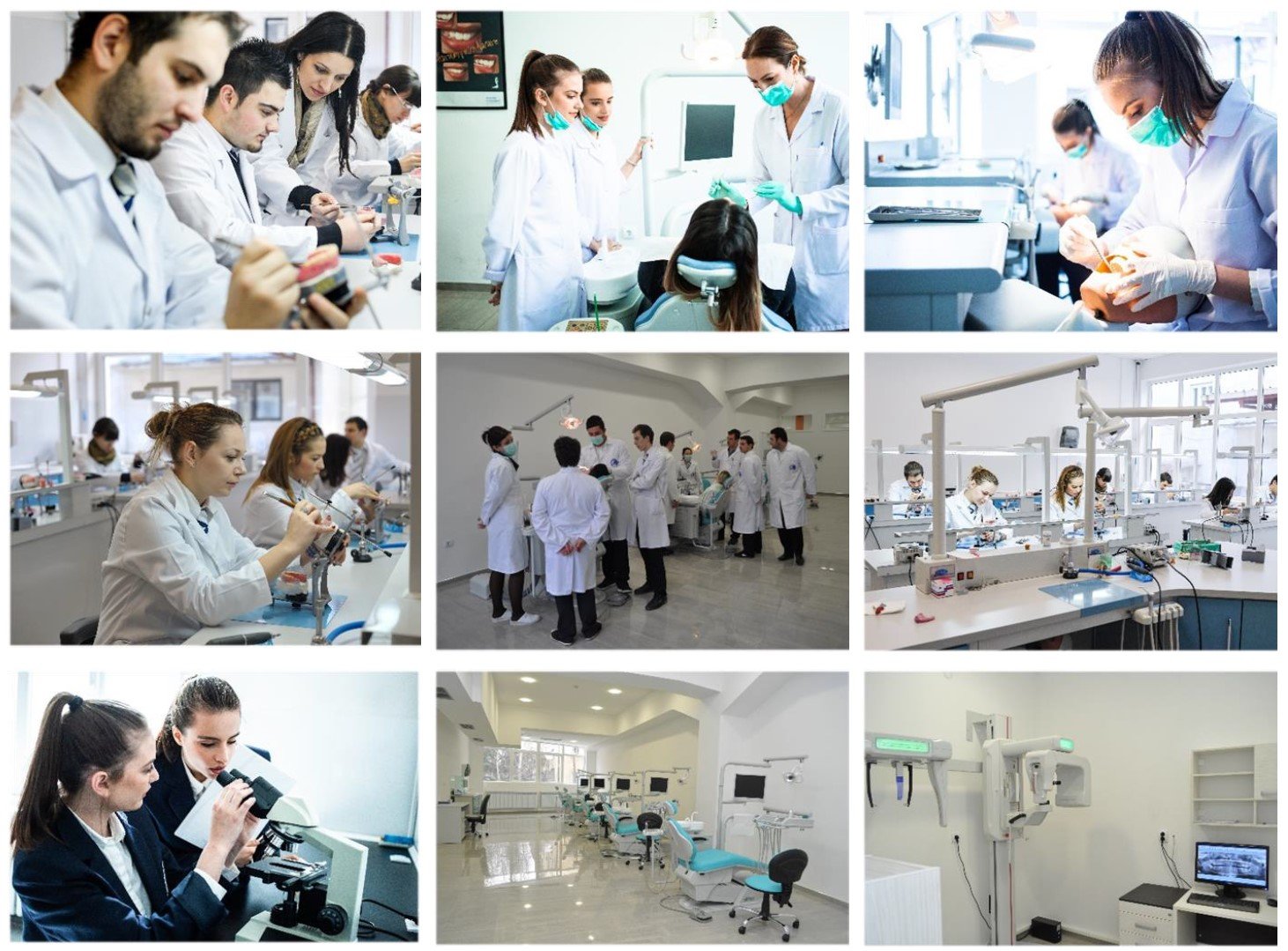 The clinical area is organized in 6 departments (clinics):
Clinic for restorative dentistry and endodontics
Clinic for dental prosthetics
Clinic for oral and periodontal diseases
Clinic for orthodontics
Clinic for pediatric and preventive dentistry
Clinic for oral surgery and implantology
Apart from the designated clinics, there are additional premises serving different purposes:
Reception Office
Central Sterilization Room
X-Ray Cabinet
Doctor's Room
VIP Rooms
Office
Waiting Rooms
Restrooms
The preclinical area consists of the following premises:
Dental Technicians Laboratory 1
Dental Technicians Laboratory 2
Practice Room 1
Practice Room 2
Laboratory for Prosthodontics 1
Laboratory for Prosthodontics 2
Additional Premises